Construction of Indianapolis Zoo Bicentennial Pavilion is Under Way!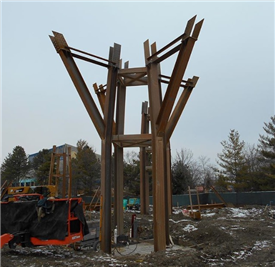 Lenex Steel is excited that the Indianapolis Zoo Bicentennial Pavilion and Promenade project is under way. This brand new structure, opening in the summer of 2017, will become the new home for a variety of Zoo activities, including private events, a new bird presentation area and a concessions area. Conveniently located near the Zoo's Entry Plaza, with restrooms and the gift shop nearby, the Bicentennial Pavilion will be an ideal place to host after-hour events. Visit the Indianapolis Zoo website to learn more.

Other Public Works & Government Projects
For additional information about Lenex's work with the Indianapolis Zoo Orangutan Center click here, and visit our public works construction projects for a small sample of government steel fabrication projects we are proud to showcase.